Welcome to the MS-DOS game emulator. On this abandonware site you have an old game review every week, where you can play the freeware/shareware version of every game.
Indiana Jones y la última cruzada
Want more CPU Speed ?
Press CTRL-F12 for speed up game
Press CTRL-F11 for slow it down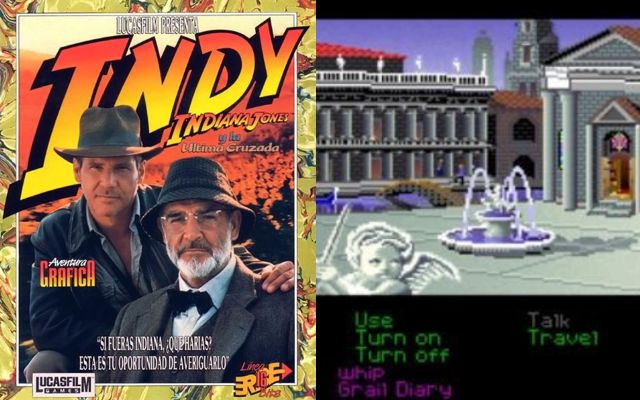 Indiana Jones y la última cruzada
Date added: 2019-11-13
Tags: None
Rated the best by our players
5 out of 5 based on 3615 ratings.
Game Information:
Indiana Jones y la última cruzada es un juego de aventura gráfica publicado por LucasArts para sistemas DOS, Amiga, Atari ST y Macintosh en 1989. El jugador controla al Dr. Jones mientras interactúa con varios personajes y visita zonas de la película para encontrar el secreto del Santo Grial. El juego se reeditó dos veces: primero con gráficos de 16 colores y una banda sonora digital completa, y después con gráficos de 256 colores, correcciones menores de errores y la banda sonora MIDI de la versión original.
Fue el tercer juego que utilizó el motor SCUMM.
El argumento sigue de cerca, y amplía, la película de Indiana Jones y la última cruzada. Cuando el juego comienza, Indiana Jones ha regresado a su universidad, después de reclamar la Cruz de Coronado. Se le acerca el empresario Walter Donovan, que le habla del Santo Grial y de la desaparición del padre de Indy.
Indy viaja entonces a algunos de los lugares que se ven en la película, como Venecia y las catacumbas, tras conocer a la también arqueóloga Elsa Schneider. En el proceso encuentra a su padre cautivo en el castillo de Brunwald, tras atravesar los laberínticos pasillos, luchando y evitando a los guardias. Entonces se revela el doble papel de Elsa cuando roba el Diario del Grial a Indy. Tras escapar, padre e hijo pasan por Berlín para reclamar el Diario y tienen un breve encuentro con Adolf Hitler. Luego llegan a un aeropuerto, desde donde pretenden buscar el Valle de la Luna Creciente, en zepelín o en biplano. Hay muchas escenas de acción, con puñetazos, y la secuencia del biplano sobrevolando Europa, perseguido por los aviones nazis.
Varios elementos clave de la película -como la Hermandad del Grial, el amigo de Indy, Sallah, y la persecución del agua en Venecia y las escenas de batalla en el desierto (salvo pequeñas referencias ocultas)- no se incluyeron en el juego.
More games you may like...