Welcome to the MS-DOS game emulator. On this abandonware site you have an old game review every week, where you can play the freeware/shareware version of every game.
Want more CPU Speed ?
Press CTRL-F12 for speed up game
Press CTRL-F11 for slow it down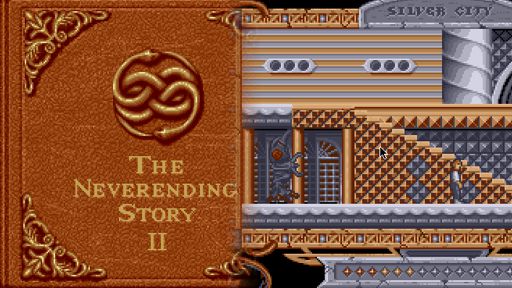 The NeverEnding Story II
Date added: 2019-11-05
Tags: None
Rated the best by our players
5 out of 5 based on 4709 ratings.
Game Information:
The Neverending Story II: The Arcade Game is a game published in 1990 by Linel. The game was released for Amiga, C64, PC (DOS) and ZX Spectrum.
It is a multi-genre action game. It plays with several styles including platforming, flying, racing... all in one game.
The first part is a dangerous platform race through Silver City in which you must avoid giant creatures and push them off cliffs. Trial and error will allow you to finally discover your way through the long and monotonous exit of the city. A single misstep at any point means instant death. Very few players have the patience to finish the first level.
The second section lets you ride Falcor through a canyon where you must be careful not to crash into the walls. Halfway through you encounter a flying beast that tries to push you against the walls. Near the end you must avoid the storm clouds that will throw lightning at you.
The third stage consists of climbing a wall with a multitude of hazards that can knock you down. As in the first stage, you just have to memorize a safe path to the end, little skill is needed.
The fourth stage is a half sideways half up climb up a circular staircase where you must spray paint in the face of the giants to make them fall to their death. You must do this over and over again.
In the fifth phase you have to ride a horse through a treacherous landscape of bushes, rocks and attacking birds. You must jump or duck depending on what gets in your way. It's fun at first, but it goes on too long.
More games you may like...