Welcome to the MS-DOS game emulator. On this abandonware site you have an old game review every week, where you can play the freeware/shareware version of every game.
Want more CPU Speed ?
Press CTRL-F12 for speed up game
Press CTRL-F11 for slow it down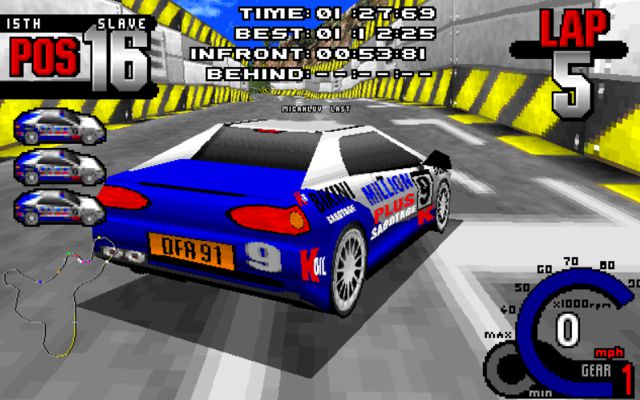 Fatal Racing / Whiplash
Date added: 2019-11-05
Tags: None
Rated the best by our players
5 out of 5 based on 4279 ratings.
Game Information:
Fatal Racing (also known as Whiplash in the USA) is a PC racing game that can be described as a mixture of Race Driving and Destruction Derby. Eight two-person teams compete on circuits until all human players cross the finish line (or are destroyed 3 times) or there is only one car left on the track.
Supporting up to 16 players over an IPX network (unusual for its time, being a DOS game), fiendishly difficult to the end, the game didn't catch on as most computers of the time had graphics problems (unless you had one of those new 3dfx Voodoo cards that came with a 3d accelerated version). You needed a decent Pentium to play with SVGA graphics and all the graphics options turned on.
A couple of additional notes: Most of the examples below refer to the unpatched v1.0 version of Fatal Racing. A patch was made for Fatal Racing, and the US version, Whiplash, uses this "patch 2.0", which fixes some bugs and changes a couple of options.
More games you may like...