Welcome to the MS-DOS game emulator. On this abandonware site you have an old game review every week, where you can play the freeware/shareware version of every game.
Want more CPU Speed ?
Press CTRL-F12 for speed up game
Press CTRL-F11 for slow it down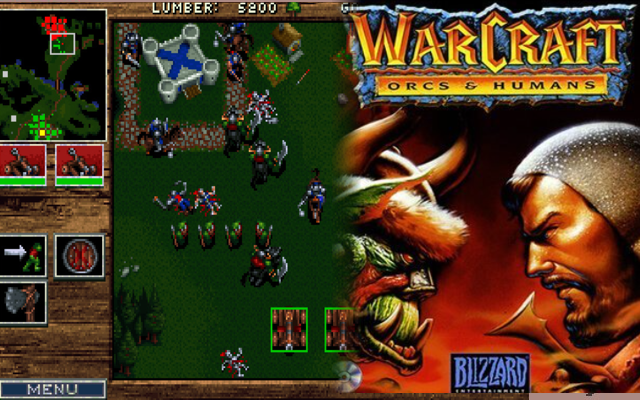 Warcraft: Orcs & Humans
Date added: 2019-11-04
Tags: None
Rated the best by our players
5 out of 5 based on 5597 ratings.
Game Information:
Warcraft: Orcs & Humans (also known as Warcraft I) is a real-time strategy game and the first video game in the Warcraft series developed by Blizzard Entertainment. The MS-DOS version was released on November 15, 1994 and quickly became a best-seller. The game stars two races, the humans of the Kingdom of Azeroth and the invading orcs of the Orc Horde. The game sold 100,000 copies in its first year, making it Blizzard's best-selling title at the time. Today, the game is out of print and the demo that was once available on Blizzard's website is no longer available, although it can still be downloaded from available third parties, such as Internet Archive.
Although Warcraft: Orcs & Humans was not the first real-time strategy title to offer multiplayer matches, Blizzard's game convinced a wider audience that multiplayer facilities were essential for future real-time strategy titles. The game introduced innovations in mission design and gameplay elements, which were subsequently adopted by other RTS developers.
In these real-time strategy games, Blizzard emphasized skillful management of relatively small forces and the development of characterization and storyline within and between games in the same universe. Sales were quite high, critics were mostly impressed, and the game won three awards and was a finalist for three others. The sequel, Warcraft II: Tides of Darkness, became the main rival to Westwood Studios' Command & Conquer series, and this competition fostered an RTS boom in the mid-to-late 1990s. After the direct sequel, a whole universe of games, novels and comics followed for the Warcraft universe.
Warcraft: Orcs & Humans has not only become a classic, winning many awards, but has also set new standards for multiplayer games. Set in the mythical Realm of Azeroth, players are tasked with maintaining a thriving economy while building a war machine with which to destroy the enemy.
Playing as either Human or Orc in this saga, two separate storylines unfold with 12 quests per side, each telling a different story in the battle for Azeroth. From swords to sorcery, all the elements of classic fantasy are here to be explored; rich forests, dark dungeons and bubbling swamps await the stalwart troops gathered to fight for dominance.
The multiplayer aspects of the game take Warcraft to a new level of excitement. One player can challenge another on more than 20 custom maps and determine who is the ultimate warlord. Head-to-head play is compatible with modem, serial link and IPX networks, and works cross-platform with IBM-PC and Macintosh versions.
Warcraft: Orcs & Humans laid the groundwork for many of the tropes that would later become recurring in the series: emphasis on skillful management of relatively small forces, a living universe that is detailed through both in-game cutscenes and a rich user manual, dungeon maps, civil war maps, the presence of creep creatures, units that respond humorously when clicked on repeatedly. Unlike Warcraft III: Reign of Chaos, the units and buildings of both armies have mostly the same functions and statistics but with different sprites.
Multiplayer and AI skirmishes that are not part of the campaigns are supported by a random map generator.
More games you may like...