Welcome to the MS-DOS game emulator. On this abandonware site you have an old game review every week, where you can play the freeware/shareware version of every game.
Want more CPU Speed ?
Press CTRL-F12 for speed up game
Press CTRL-F11 for slow it down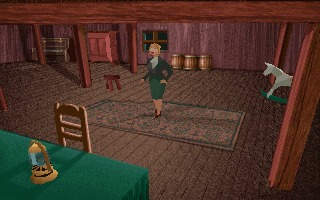 Alone in the Dark
Date added: 2019-11-02
Tags: None
Rated the best by our players
5 out of 5 based on 2969 ratings.
Game Information:
Alone in the Dark, released in 1992 for MS-DOS, is a game that has become a milestone in the horror gaming genre. Developed by Infogrames, the game pioneered many aspects and set the foundation for future entries in the genre.
One of the standout features of Alone in the Dark is its immersive and chilling atmosphere. The game utilizes polygonal 3D graphics, which were innovative at the time, to create dark and detailed environments that instill a constant sense of danger. The lighting and sound effects are masterfully combined to create a hair-raising experience. The music and sound effects heighten the tension and keep you on the edge of your seat throughout.
The gameplay of Alone in the Dark was also groundbreaking for its time. The game adopts a third-person perspective and allows the player to explore a mansion filled with secrets and terrifying creatures. The blend of action, puzzle-solving, and exploration makes for a varied and challenging experience. The combat, though simple, manages to convey a sense of danger and desperation.
Alone in the Dark's narrative is another one of its strengths. The player takes on the role of a detective investigating the mysterious disappearance of Jeremy Hartwood in the Derceto mansion. As you progress through the game, you uncover clues and documents that allow you to piece together the story behind the horrors lurking within the mansion. The plot is well-structured and features unexpected twists that keep you engaged and intrigued.
Although Alone in the Dark was released decades ago, it still retains its charm and remains an unforgettable experience for horror genre enthusiasts. While the graphics and gameplay may appear primitive compared to modern standards, the quality of design and the achieved atmosphere are still remarkable. Alone in the Dark laid the groundwork for many subsequent horror games and deserves its place as a classic in the genre.
If you're a fan of horror games and are seeking an unforgettable retro experience, Alone in the Dark for MS-DOS is a must-play. Dive into the Derceto mansion, uncover its dark secrets, and prepare to face your deepest fears in a game that marked a before and after in the history of horror gaming.
More games you may like...