Welcome to the MS-DOS game emulator. On this abandonware site you have an old game review every week, where you can play the freeware/shareware version of every game.
Want more CPU Speed ?
Press CTRL-F12 for speed up game
Press CTRL-F11 for slow it down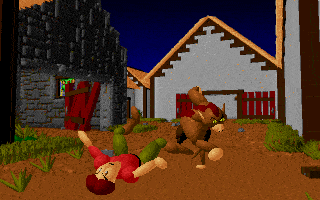 Ecstatica
Date added: 2019-11-04
Tags: None
Rated the best by our players
5 out of 5 based on 3929 ratings.
Game Information:
Ecstatica, released for MS-DOS in 1994, is a unique and atmospheric adventure game that transports players into a dark and surreal world. Developed by Andrew Spencer Studios, Ecstatica captivates players with its immersive 3D graphics, intricate puzzles, and haunting atmosphere.
In Ecstatica, players assume the role of a traveler who becomes trapped in a mysterious land plagued by demonic creatures. The game's narrative unfolds gradually as players explore the eerie environments, uncovering the secrets and history of the world. The story is told through subtle clues, scattered documents, and enigmatic encounters, adding to the sense of intrigue and discovery.
One of the standout aspects of Ecstatica is its visual presentation. The game utilizes advanced 3D graphics for its time, creating a fully realized world with detailed environments and character models. The dark and foreboding atmosphere is heightened by the dynamic lighting effects, which cast eerie shadows and add a sense of depth to the surroundings. The attention to detail in the visuals contributes to the game's immersive and unsettling experience.
Gameplay in Ecstatica revolves around exploration, puzzle-solving, and combat. Players navigate through the game's interconnected areas, interacting with objects and characters to progress. The puzzles range from logic-based challenges to more obscure and cryptic riddles, requiring careful observation and critical thinking. Combat encounters with the demonic creatures provide tense and visceral moments, adding an element of danger to the exploration.
Ecstatica's audio design further enhances the game's atmosphere. The haunting and atmospheric soundtrack perfectly complements the dark visuals, creating a sense of unease and anticipation. The sound effects, from creaking doors to menacing growls, add an immersive layer to the overall experience.
While Ecstatica may not have enjoyed mainstream popularity, it remains a cult classic among fans of atmospheric adventure games. Its surreal world, unique visual style, and challenging gameplay set it apart from other titles of its time. The game's emphasis on exploration and unraveling the mysteries of the land creates an engrossing and immersive experience.
In conclusion, Ecstatica is an atmospheric and unconventional adventure game that immerses players in a surreal and foreboding world. Its impressive visuals, intricate puzzles, and haunting atmosphere combine to create a memorable and captivating experience. If you appreciate atmospheric storytelling and enjoy delving into mysterious and unsettling environments, Ecstatica is a title that should not be missed. Prepare to lose yourself in a dark and enigmatic journey that will leave a lasting impression.
More games you may like...