Welcome to the MS-DOS game emulator. On this abandonware site you have an old game review every week, where you can play the freeware/shareware version of every game.
Want more CPU Speed ?
Press CTRL-F12 for speed up game
Press CTRL-F11 for slow it down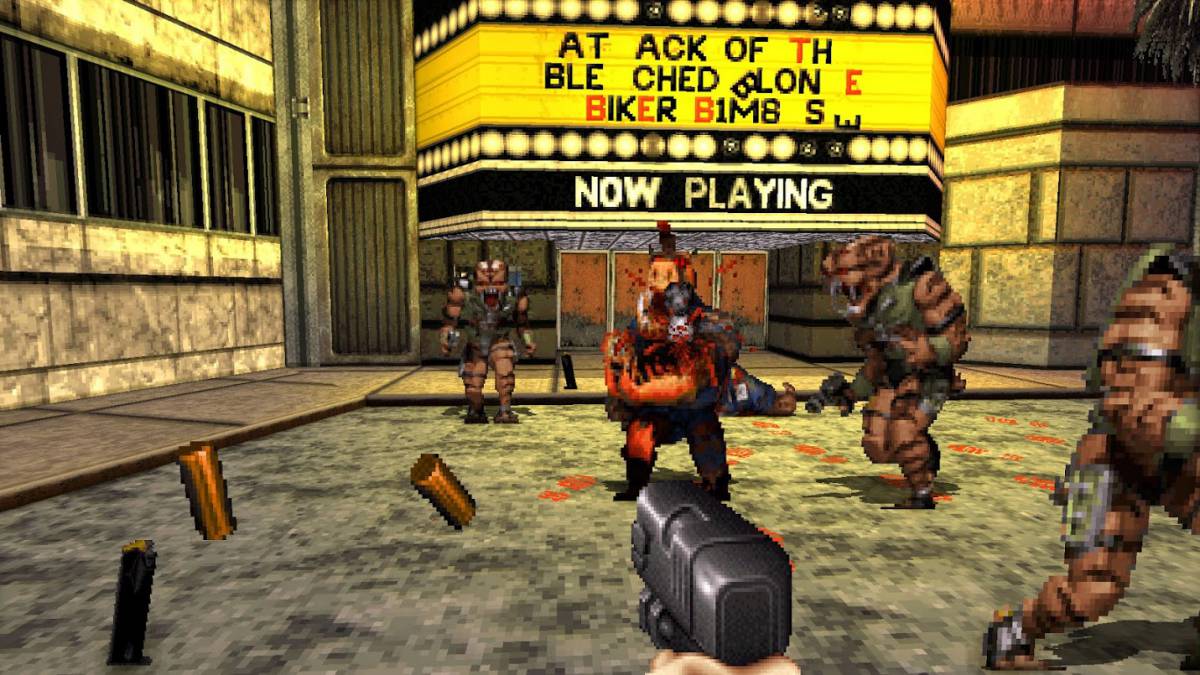 Duke Nukem 3D
Date added: 2019-10-23
Tags: None
Rated the best by our players
5 out of 5 based on 14631 ratings.
Game Information:
Duke Nukem 3D is a first-person shooter video game developed by 3D Realms. It is a sequel to the platform games Duke Nukem and Duke Nukem II, published by 3D Realms.
Duke Nukem 3D features the adventures of the titular Duke Nukem, voiced by Jon St. John, who fights against an alien invasion on Earth. Along with Wolfenstein 3D and Doom, Duke Nukem 3D is considered to be responsible for popularizing first-person shooters, and was released to major acclaim. Reviewers praised the interactivity of the environments, gameplay, level design, and unique risqué humor, a mix of pop-culture satire and lampooning of over-the-top Hollywood action heroes. The game's violent nature, erotic elements, and portrayal of women incited controversy.
The shareware version of the game was originally released on January 29, 1996, while the full version was released on April 19, 1996 as version 1.3d. The Plutonium PAK, an expansion pack which updated the game to version 1.4 and added a fourth eleven-level episode, was released in November 1996. The Atomic Edition, a standalone version of the game that included the content from the Plutonium PAK and updated the game to version 1.5, was later released; the original version of Duke Nukem 3D has since been discontinued. An official fifth episode was released on October 11, 2016 with 20th Anniversary World Tour published by Gearbox Software. After fifteen years in development hell, a direct sequel was released in 2011 called Duke Nukem Forever.
As a first-person shooter whose gameplay is similar to Doom, the gameplay of Duke Nukem 3D involves moving through levels presented from the protagonist's point of view, shooting enemies on the way. The environments in Duke Nukem 3D are highly destructible and interactive; most props can be destroyed by the player.
Levels were designed in a fairly non-linear manner such that players can advantageously use air ducts, back doors, and sewers to avoid enemies or find hidden caches. These locations are also filled with objects with which the player can interact, that either benefit the player in some form, light switches make it easier to see, while water fountains and broken hydrants provide some health points or simply diversion, and tipping strippers provokes a quote from Duke, and a provocative reveal from the dancer.
Duke's arsenal consists of the "Mighty Foot" (a basic kick attack), a pistol, a shotgun, a triple-barrelled chain gun, a rocket-propelled grenade launcher, pipe bombs, freeze and shrink rays, laser land mines, and the rapid fire "Devastator" rocket launcher. There is also an extra weapon known as the "Expander", the opposite of the shrink ray weapon, which is only available in the Atomic Edition version of the game.
Various items can be picked up during gameplay. The portable medkit allows players to heal Duke at will. Steroids speed up Duke's movement, as well as instantly reversing the effects of the shrink ray weapon and increasing the strength of Duke's Mighty Foot for a short period. Night vision goggles allow players to see enemies in the dark. The "HoloDuke" device projects a hologram of Duke which can be used to distract enemies. Protective boots allow Duke to cross dangerously hot or toxic terrain. In sections where progress requires more aquatic legwork, an aqua-lung allows Duke to take longer trips underwater. Duke's jet pack allows the player to move vertically and gain access to otherwise inaccessible areas.
The game features a wide variety of enemies; some of which are aliens and other mutated humans. The LAPD have been turned into "Pig Cops", a play on the derogatory term "pig" for police officers, with LARD emblazoned on their uniforms. As is usual for a first-person shooter, Duke Nukem encounters a large number of lesser foes, as well as bosses, usually at the end of episodes. Like Duke, these enemies have access to a wide range of weapons and equipment, and some weaker enemies have jet packs.
Multiplayer
Duke Nukem 3D features multiplayer. At the time of its release, Internet-based gaming was just beginning. Duke Nukem 3D did not support the TCP/IP client/server model, instead based its network play on the IPX LAN, modem or serial cable. Duke Nukem 3D players often either battled modem-to-modem, using the IPX network utility Kali[3] or the Total Entertainment Network (TEN) online pay service.[4] Kali allowed users to connect to a chat room to host and join games. Duke Nukem 3D was one of the more popular games on TEN prior to the closure of the network in 1999.[5] The game was also supported by DWANGO.[6]
Duke Nukem 3D's levels were often used as the battlegrounds for these encounters, and users were even able to create their own levels, or maps, using the level editor bundled with the game, which was also used by the developers to design the initial levels.[7] The game also features co-operative play which allows players to complete the story-based mode together. In Duke Nukem 3D: Atomic Edition, a new gameplay mode was introduced: Duke-Tag, a "capture the flag" style mode.
Duke Nukem 3D has been ported to run on modern Microsoft Windows variants including Windows XP, Windows 7, and Windows 8. This has been made possible since the game's source code was publicly released in 2003. Various source ports have been made including EDuke32, JFDuke3D, nDuke, hDuke, and xDuke. All five offer the original visual appearance of the game, while EDuke32 also supports OpenGL rendering including the capability to use fan-created modern graphics using the High Resolution Pack.[8] nDuke, hDuke and xDuke can still be played online in multiplayer 'DukeMatch' format using launchers such as Duke Matcher and YANG, both freely available. EDuke32's multiplayer is in a state of development hell following an attempt to rewrite the network functionality using a client–server model.
Duke Nukem 3D is set on Earth "sometime in the early 21st century".[9] The levels of Duke Nukem 3D take players outdoors and indoors through rendered street scenes, military bases, deserts, a flooded city, space stations, moon bases, and a Japanese restaurant.
The game contains several humorous references to pop culture. Some of Duke's lines are drawn from movies such as Aliens, Dirty Harry, Evil Dead II, Full Metal Jacket,[10] Jaws, Pulp Fiction, and They Live;[10] the captured women saying "Kill me" is a reference to Aliens. Players will encounter corpses of famous characters such as Luke Skywalker, Indiana Jones, Snake Plissken, the protagonist of Doom, and a smashed T-800. In the first episode, players navigate a tunnel in the wall of a prison cell hidden behind a poster, just like in The Shawshank Redemption. During the second episode, players can see The Monolith (from 2001: A Space Odyssey) on the moon. In the bathroom of the first level, 867-5309 is written on a wall.
The game cover itself is a parody of Army of Darkness, with Duke posing as Ash Williams
Wikipedia contributors. (2019, November 13). Duke Nukem 3D. In Wikipedia, The Free Encyclopedia. Retrieved 23:53, November 13, 2019, from https://en.wikipedia.org/w/index.php?title=Duke_Nukem_3D&oldid=925907759
More games you may like...