Welcome to the MS-DOS game emulator. On this abandonware site you have an old game review every week, where you can play the freeware/shareware version of every game.
Want more CPU Speed ?
Press CTRL-F12 for speed up game
Press CTRL-F11 for slow it down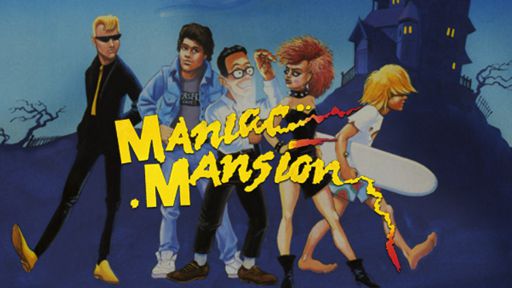 Maniac Mansion
Date added: 2019-11-13
Tags: None
Rated the best by our players
5 out of 5 based on 3615 ratings.
Game Information:
Maniac Mansion is an adventure game published in 1987 by Lucasfilm Games. Maniac Mansion became well known among gamers and video game programmers for its introduction of new ideas, such as multiple possible endings, multiple user-selectable characters with significantly different abilities, and critical clues contained in numerous cutscenes.
At the beginning of the game, the hero, Dave Miller, discovers that his girlfriend, Sandy Pantz, has been kidnapped by Dr. Fred Edison, and sets out to save her, with two of his friends. The player could choose friends from a pool of six, and the game played somewhat differently depending on which friends were chosen. The game was clearly a parody of the B-horror genre, with a secret laboratory, leftover tentacles and an evil mastermind.
In the kitchen of the mansion you can find a chainsaw for which there was no fuel. In one of the inside jokes that characterise LucasArts adventure games, the second SCUMM game, Zak McKracken and the Alien Mindbenders, contains "chainsaw-only" fuel, but no chainsaw. Also, in a later remake of the Maniac Mansion game, the heroes can read a poster of Zak McKracken's game in the arcade, and say "I wonder what the gas can was for on Mars".
In another reference, the entire game is contained in its sequel, Maniac Mansion: Day of the Tentacle, on a computer in the bedroom of one of the characters.
Another is the staircase in the library (with a sign, "stairs out of order") that appears to be a puzzle, but in reality there is no way to fix it or cross it (to fix it, you would have needed a saw to get some wooden planks...).
Maniac Mansion was also the first game to feature Chuck the Plant (found in the library); Chuck later appears in almost every other LucasArts adventure game, and several games by other publishers.
More games you may like...