Welcome to the MS-DOS game emulator. On this abandonware site you have an old game review every week, where you can play the freeware/shareware version of every game.
Want more CPU Speed ?
Press CTRL-F12 for speed up game
Press CTRL-F11 for slow it down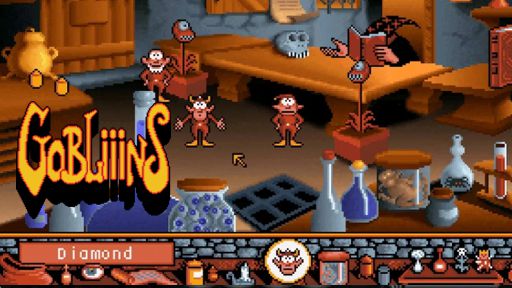 Gobliiins
Date added: 2019-11-13
Tags: None
Rated the best by our players
5 out of 5 based on 3615 ratings.
Game Information:
Gobliiins is a nice adventure game created by Coktel Vision in 1991 that would end up giving rise to a trilogy in the nineties and a bitter return in the new millennium through the dispensable Gobliiins 4.
The original work couldn't compete with the classics from LucasArts or Sierra, but it had a lot of personality thanks to the trio of goblin protagonists. Because each character was unique. But it is best that we remember this classic calmly through our retroanalysis section.
In Gobliiins, the player controls a team of three different goblins, each with a unique ability. The first goblin, Asgard (BoBo in the US version), is a warrior who has more brawn than brains, and whose ability consists of throwing punches, causing various things to break or fall. He is also the only one who can climb objects other than ladders. The second, Ignatius (US: Hooter), is a wizard who can "zap" things with magic with a wide variety of usually unexpected effects, including objects that move, grow, or come to life. The third, Oups (US: Dwayne), is a technician and is the only one of the three who can pick up and use objects.
The game is linear and consists of 22 levels, each of which occupies a single screen. The puzzles in each level must be successfully solved to advance to the next.
Various actions can harm the goblin involved, such as leaving him in an unsafe place, using the wrong objects, or interacting with objects with the wrong characters, thus reducing his shared life meter. When the meter runs out, the game ends in defeat (although all levels can be completed without loss of life).
More games you may like...