Welcome to the MS-DOS game emulator. On this abandonware site you have an old game review every week, where you can play the freeware/shareware version of every game.
Cisco Heat: All American Police Car Race
Want more CPU Speed ?
Press CTRL-F12 for speed up game
Press CTRL-F11 for slow it down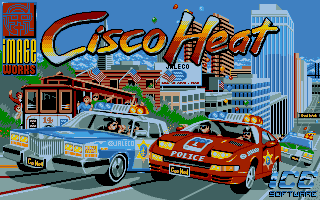 Cisco Heat: All American Police Car Race
Date added: 2019-11-04
Tags: None
Rated the best by our players
5 out of 5 based on 4174 ratings.
Game Information:
Cisco Heat: All American Police Car Race, released in 1990 by Jaleco, is an arcade-style racing game that takes players on a thrilling journey through the world of high-speed police chases. Reminiscent of the action-packed racing games of the era, Cisco Heat delivers an enjoyable and nostalgic experience for fans of classic arcade racing.
The gameplay in Cisco Heat revolves around intense races as a police officer in pursuit of criminals. Players hop behind the wheel of a powerful police car and navigate through various tracks set in iconic American cities. The objective is to catch up to and apprehend the criminals while avoiding obstacles, traffic, and other hazards on the road.
One of the standout features of Cisco Heat is its fast-paced and adrenaline-fueled racing action. The controls are responsive and easy to grasp, allowing players to quickly maneuver through the streets and perform high-speed drifts around corners. The races are filled with excitement as players compete against AI opponents, trying to outmaneuver them and maintain the lead. Power-ups and nitro boosts add an extra layer of strategy and intensity to the races, allowing for thrilling comebacks or last-minute surges to victory.
Visually, Cisco Heat captures the aesthetic of the arcade racing games of its time. The graphics, while not groundbreaking by today's standards, are colorful and well-detailed, providing an immersive experience. The racecourses feature recognizable landmarks and diverse environments, adding variety to the racing experience. The sound effects and music complement the fast-paced action, enhancing the overall atmosphere.
While Cisco Heat may lack in-depth storytelling or complex simulation mechanics, it succeeds in delivering simple and enjoyable arcade racing fun. The game's focus on high-speed police chases and thrilling races makes it an ideal choice for those seeking a nostalgic blast from the past. Its straightforward gameplay and accessible controls make it suitable for players of all skill levels, offering an enjoyable racing experience that can be picked up and played at any time.
In conclusion, Cisco Heat: All American Police Car Race is a retro gem that captures the spirit of classic arcade racing games. Its fast-paced gameplay, responsive controls, and nostalgic visuals provide a delightful trip down memory lane for fans of the genre. If you're looking for an enjoyable and straightforward racing experience that harkens back to the golden age of arcade gaming, Cisco Heat is worth a spin.
More games you may like...