Welcome to the MS-DOS game emulator. On this abandonware site you have an old game review every week, where you can play the freeware/shareware version of every game.
Want more CPU Speed ?
Press CTRL-F12 for speed up game
Press CTRL-F11 for slow it down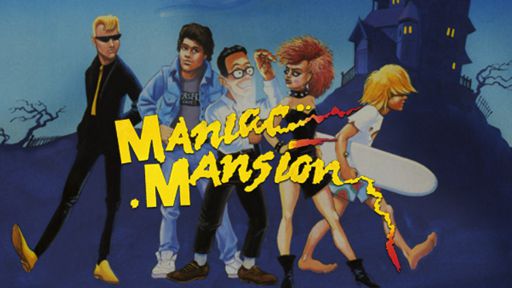 Maniac Mansion (Español)
Date added: 2019-11-13
Tags: None
Rated the best by our players
5 out of 5 based on 3615 ratings.
Game Information:
Maniac Mansion es una aventura gráfica publicada en 1987 por Lucasfilm Games. Maniac Mansion se hizo muy famoso entre los jugadores y programadores de videojuegos por su introducción de nuevas ideas, como los múltiples finales posibles, los múltiples personajes seleccionables por el usuario con habilidades significativamente diferentes y las pistas críticas contenidas en numerosas escenas de corte.
Al principio del juego, el héroe, Dave Miller, descubre que su novia, Sandy Pantz, ha sido secuestrada por el Dr. Fred Edison, y se dispone a salvarla, con dos de sus amigos. El jugador podía elegir a los amigos de entre un grupo de seis, y el juego se desarrollaba de forma algo diferente en función de los amigos elegidos. El juego era claramente una parodia del género de terror de serie B, con un laboratorio secreto, tentáculos sobrantes y un malvado cerebro.
En la cocina de la mansión se puede encontrar una motosierra para la que no había combustible. En uno de los chistes internos que caracterizan a las aventuras gráficas de LucasArts, el segundo juego de SCUMM, Zak McKracken and the Alien Mindbenders, contiene combustible "sólo para motosierras", pero ninguna motosierra. Además, en un remake posterior del juego Maniac Mansion, los héroes pueden leer un póster del juego de Zak McKracken en la sala arcade, y decir "Me pregunto para qué servía el bidón de gasolina en Marte".
En otra referencia, todo el juego está contenido en su secuela, Maniac Mansion: Day of the Tentacle, en un ordenador del dormitorio de uno de los personajes.
Otra es la escalera de la biblioteca (con un cartel, "escalera fuera de servicio") que parece ser un rompecabezas, pero en realidad no hay forma de arreglarla ni de cruzarla (para arreglarla, habría hecho falta una sierra para conseguir unos tablones de madera...).
Maniac Mansion fue también el primer juego en el que apareció Chuck la Planta (que se encuentra en la biblioteca); Chuck aparece después en casi todos los demás juegos de aventuras de LucasArts, y en varios juegos de otros editores.
More games you may like...