Welcome to the MS-DOS game emulator. On this abandonware site you have an old game review every week, where you can play the freeware/shareware version of every game.
Want more CPU Speed ?
Press CTRL-F12 for speed up game
Press CTRL-F11 for slow it down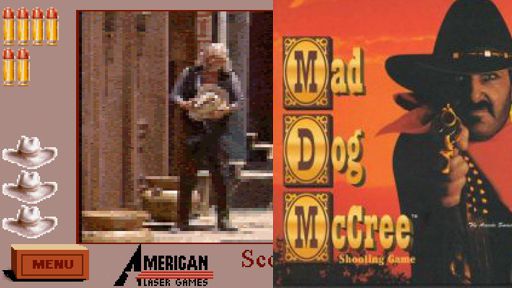 Mad Dog McCree
Date added: 2019-11-13
Tags: None
Rated the best by our players
5 out of 5 based on 3106 ratings.
Game Information:
Mad Dog McCree, originally released in 1990 as an arcade game by American Laser Games, brought in 1993 the interactive shooting gallery experience to MS-DOS computers, offering players a taste of the Wild West in a unique and engaging way. With its live-action video sequences, fast reflexes, and immersive Western atmosphere, Mad Dog McCree delivers a nostalgic and entertaining gaming experience.
One of the defining features of Mad Dog McCree is its use of full-motion video (FMV) sequences to tell an interactive narrative. The game seamlessly integrates live-action footage with gameplay, transporting players to the dusty towns and deserts of the Old West. The FMV sequences, featuring cowboys, saloons, and shootouts, contribute to the game's immersion and bring a sense of authenticity to the experience.
The gameplay of Mad Dog McCree in MS-DOS revolves around quick reactions and accurate shooting. Players use a light gun or mouse to aim and shoot at on-screen targets, which can include notorious outlaws, barrels, or other objects. The objective is to eliminate the threats while avoiding shooting innocent bystanders, as doing so results in penalties. The fast-paced nature of the game keeps players engaged and challenges their shooting skills and reflexes.
Mad Dog McCree features different stages, each presenting unique challenges and enemies to face. From showdowns in the dusty streets to shootouts in the canyons, each location offers a distinct Wild West flavor. Players will encounter infamous outlaws, including the eponymous Mad Dog McCree, requiring precision shooting and quick thinking to overcome these formidable foes.
Visually, Mad Dog McCree in MS-DOS combines live-action video with simple digitized backgrounds. While the graphics may appear dated by today's standards, they retain a nostalgic charm that adds to the game's overall appeal. The sound design, including Western-themed music and voice acting, further enhances the immersive experience, immersing players in the Wild West atmosphere.
Mad Dog McCree in MS-DOS is a testament to the arcade-style shooting gallery games of the past. While its gameplay mechanics may not be as deep or complex as contemporary titles, it offers a unique and entertaining experience, particularly for fans of retro gaming. It's a game that can be enjoyed in short bursts, providing a nostalgic trip back to the era of FMV gaming.
In conclusion, Mad Dog McCree in MS-DOS brings the Wild West shooting gallery experience to your computer screen. With its live-action video sequences, quick reflexes, and immersive Western setting, the game delivers a nostalgic and enjoyable journey through the Old West. If you're looking for a blast from the past and enjoy shooting gallery-style gameplay, Mad Dog McCree in MS-DOS is worth revisiting. So grab your light gun or mouse, strap on your virtual holster, and prepare to face off against the most notorious outlaws of the Wild West.
More games you may like...