Welcome to the MS-DOS game emulator. On this abandonware site you have an old game review every week, where you can play the freeware/shareware version of every game.
Want more CPU Speed ?
Press CTRL-F12 for speed up game
Press CTRL-F11 for slow it down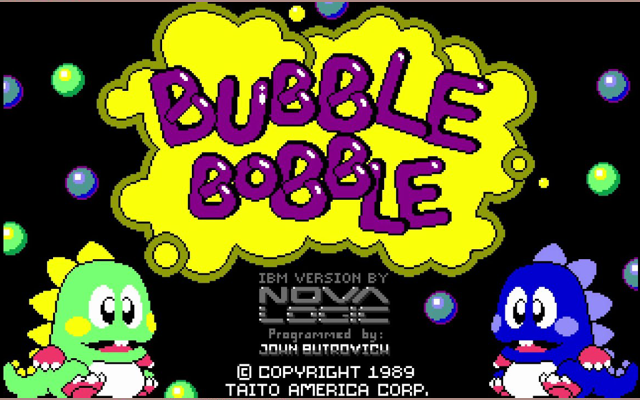 Bubble Bobble
Date added: 2019-11-02
Tags: None
Rated the best by our players
5 out of 5 based on 1635 ratings.
Game Information:
Taito's Bubble Bobble, one of the most popular arcade games ever, tells the story of Bub and Bob, two friends who become bubble dragons and must save their girlfriends from a super bad guy named Hyper Drunk.
The gameplay, like all good arcade games, is easy to learn: you (and your friend in a 2-player game) blow bubbles to capture the bad guys and then quickly pop them. When the bubbles pop, fruit comes out for you to collect (and compete against your friend for points). The game is very simple in concept, but incredibly addictive thanks to flawless controls, quirky levels, bosses and monsters, and overall fun.
I remember playing this game for hours, thinking "just one more level before I go to bed"... and the next thing I remember is the early morning of the next day. This PC version made by NovaLogic is an excellent conversion of the original, although of course the graphics are reduced to EGA only.
With a truly classic design, it's no wonder Bubble Bobble is still alive: there have been many sequels and spin-offs, though none for PC except the excellent 1996 remake, also on this site. A must-have!
More games you may like...