Welcome to the MS-DOS game emulator. On this abandonware site you have an old game review every week, where you can play the freeware/shareware version of every game.
Want more CPU Speed ?
Press CTRL-F12 for speed up game
Press CTRL-F11 for slow it down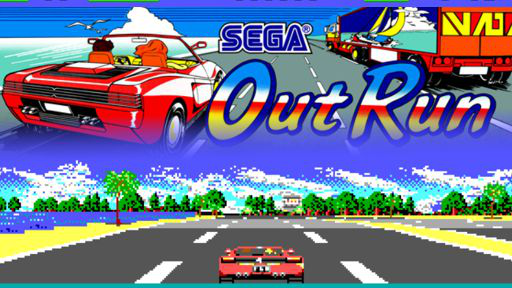 Outrun
Date added: 2019-11-05
Tags: None
Rated the best by our players
5 out of 5 based on 4279 ratings.
Game Information:
Out Run is an arcade car racing game developed by Studio 128 and published by Sega in September 1986. It was designed by Yu and Enduro Racer. The game is known for its innovative features, such as non-linear gameplay and in-game radio with soundtrack selection (music composed by Hiroshi Kawaguchi), its main innovation was the introduction of bi-linear paralax scrolling technology, which meant a quantum leap in quality compared to other games of the same genre of its time. It has been cited as an influence on later video games and a milestone in the racing and driving genre, being ported to numerous home platforms and inspiring several sequels. The platforms it was ported to were Atari, Amstrad CPC, Commodore 64, MSX, Nintendo 3DS, PC DOS, PlayStation 2, Sega Game Gear, Master System, Mega Drive / Sega Genesis, Sega Saturn, Spectrum, TurboGrafx-16 / PC Engine and Xbox.
The game's music was composed by Hiroshi Kawaguchi, who had previously composed soundtracks for other games designed by Suzuki and was part of Sega's then stable band: the S.S.T. Band. Out Run was the first arcade video game that allowed the user to choose the background music. It basically consists of three tracks: Passing Breeze (similar in style and tone to the music of popular Japanese jazz fusion groups of the 70s and 80s like Casiopea), Splash Wave and Magical Sound Shower (Miami Sound Machine-like Latin-Caribbean rhythms), broadcast through an imaginary FM radio station received by the radio receiver in the Testarossa. Another track called Last Wave can be heard on the score screen.
The 1991 Mega Drive port added an additional track titled Step On Beat, written by Masayoshi Ishi. The 2014 Nintendo 3DS version features two additional tracks, Cruising Line and Road to My Love, composed by Manabu Namiki and Jane-Evelyn "Chibi-Tech" Nisperos respectively, using the arcade's original sound hardware.
The player controls an open-top Ferrari Testarossa Spider from a third-person rear-facing perspective. Designed as a racing game, the goal is to avoid traffic and reach the finish line at one of five destinations, labeled "a" through "e", without running out of time. The game is divided into several stages that end at a checkpoint, and forks in the track near the end of each stage give the player a choice of several routes leading to five final destinations, representing different levels of difficulty and concluding with their own endings.
The car has two gears, high and low, and the player has to shift between them at appropriate times, such as shifting to the lowest gear while negotiating tricky roads and dodging oncoming obstacles, which are hidden by curves, ridges and dips in the road, adding to the challenge.
More games you may like...