Welcome to the MS-DOS game emulator. On this abandonware site you have an old game review every week, where you can play the freeware/shareware version of every game.
Want more CPU Speed ?
Press CTRL-F12 for speed up game
Press CTRL-F11 for slow it down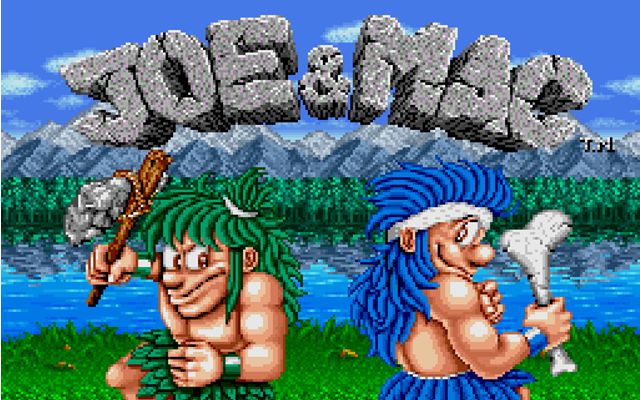 Joe & Mac: Caveman Ninja
Date added: 2019-11-02
Tags: None
Rated the best by our players
5 out of 5 based on 1635 ratings.
Game Information:
Joe & Mac: Caveman Ninja is an arcade game created by the Japanese company Data East in 1991 and was adapted for the Super Nintendo, Mega Drive, Nintendo, Game Boy, Amiga and PC (DOS) platforms.
Long ago there lived in a small village two troglodytes named Joe and Mac. Whether it was demolishing dinosaurs or hang gliding with therodactyls, life for these guys was pretty easy, until a tribe of Neanderthals, while they were out hunting, destroyed their village and kidnapped all the babies and all the women from their caves.
Joe and Mac are two creatures whose evolution is between the ape and homo sapiens, Joe has green hair and Mac has blue hair, these two troglodytes will have to fight through different levels with the help of boomerangs, bones, knives, etc. with the aim of rescuing a group of girls who were kidnapped, at the end of each level we will have to face a monster that we will have to defeat to move to the next level.
The game has two game modes: single player and pair mode. In the pair mode, the two troglodytes can damage each other.
The original arcade version had the distinction of allowing the player to select between different routes at the end of each level. Also, after defeating the final monster, players could choose between three different exits, where each allowed for a slightly different ending.
The game had 2 sequels for Super Nintendo Congo's Caper (although its sequel nature is only reflected in the Japanese title) and Joe & Mac 3: Lost in the Tropics as well as a new arcade installment called Joe & Mac Returns.
Golgoth Studios is currently working on an HD remake for XBLA, PSN and PC.
More games you may like...