Welcome to the MS-DOS game emulator. On this abandonware site you have an old game review every week, where you can play the freeware/shareware version of every game.
Want more CPU Speed ?
Press CTRL-F12 for speed up game
Press CTRL-F11 for slow it down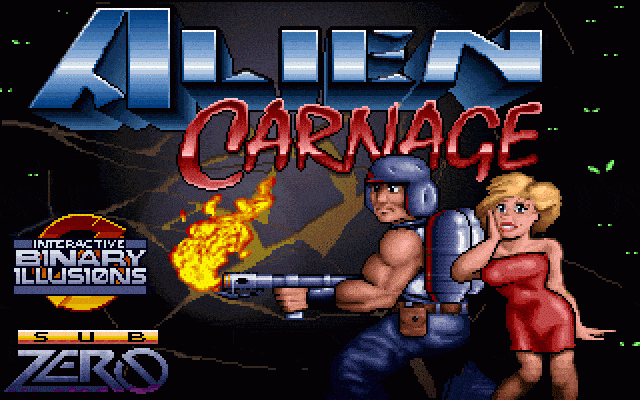 ALIEN CARNAGE
Date added: 2019-11-05
Tags: None
Rated the best by our players
5 out of 5 based on 2395 ratings.
Game Information:
Alien Carnage, originally released as Halloween Harry in 1993 and later rebranded, is an action-packed platformer game for MS-DOS that delivers a thrilling and nostalgic gaming experience. Developed by SubZero Software, Alien Carnage immerses players in a world infested with hostile aliens, putting them in the shoes of the fearless protagonist, Halloween Harry.
One of the standout features of Alien Carnage is its fast-paced and addictive gameplay. Players navigate through various levels, each filled with hordes of alien enemies that must be eliminated. Halloween Harry is armed with an impressive arsenal of weapons, ranging from pistols and flamethrowers to devastating explosives. The game's non-stop action, coupled with tight controls and responsive mechanics, keeps players engaged and on their toes as they blast their way through the alien onslaught.
Alien Carnage also incorporates elements of exploration and platforming. Players will encounter secret areas, hidden power-ups, and environmental puzzles, adding depth and variety to the gameplay. The levels are well-designed, offering a mix of challenging enemies, obstacles, and platforming sequences that require both precise timing and strategic thinking to overcome.
In terms of visuals, Alien Carnage features colorful and detailed pixel art graphics that capture the charm and atmosphere of the 16-bit era. The environments are richly illustrated, from eerie laboratories to alien-infested streets, and the character sprites are distinct and visually appealing. The accompanying sound effects and music further enhance the experience, immersing players in the alien-infested world.
Alien Carnage strikes a good balance between challenge and accessibility. While it provides a fair share of difficulty, players can adjust the game's difficulty level to suit their preferences and skill level. This flexibility ensures that both casual gamers and experienced platformer enthusiasts can enjoy the game without feeling overwhelmed or underwhelmed.
As a bonus, Alien Carnage features a compelling storyline that unfolds through well-crafted cutscenes and dialogue sequences. This narrative element adds an additional layer of engagement, giving players a sense of purpose as they progress through the game.
In conclusion, Alien Carnage (Halloween Harry) is a thrilling and nostalgic action platformer that provides a delightful retro gaming experience. Its fast-paced gameplay, diverse weaponry, and well-designed levels combine to deliver an addictive and enjoyable adventure. If you're a fan of classic platformers or seeking a dose of nostalgic gaming on your MS-DOS system, Alien Carnage is a title that shouldn't be missed. Get ready to battle alien invaders, uncover secrets, and save the world as Halloween Harry in this action-packed journey.
More games you may like...