Welcome to the MS-DOS game emulator. On this abandonware site you have an old game review every week, where you can play the freeware/shareware version of every game.
Want more CPU Speed ?
Press CTRL-F12 for speed up game
Press CTRL-F11 for slow it down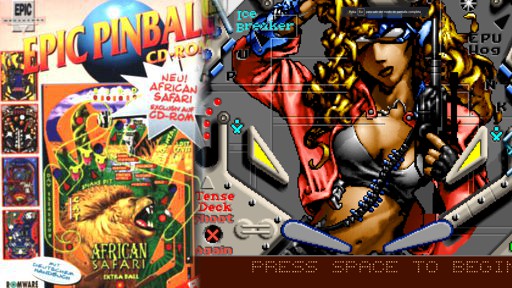 Epic Pinball
Date added: 2019-11-03
Tags: None
Rated the best by our players
5 out of 5 based on 2538 ratings.
Game Information:
Epic Pinball is a pinball video game published by Epic MegaGames (now known as Epic Games) and released for MS-DOS on November 6, 1993.
The first table of the game, Android, was released as freeware, while the others had to be purchased.
The full version originally consisted of two packs of four tables each, although a third pack of four tables was added shortly afterwards.
Six of these tables were also released as stand-alone games in 1994-1995.
Pack 1:
Android
Pot of Gold
Excalibur
Crash and Burn
Pack 2:
Magic
Jungle Pinball
Deep Sea
Enigma
Pack 3:
Cyborgirl
Pangaea
Space Travel
Toy Factory
A CD-Rom version of the game was released in 1994 under the title Epic Pinball: The Complete Collection, which included all 12 tables from the original version, plus a new table called African Safari.
The game was remade for iOS in 2011 as Retro Pinball, including only graphically updated versions of the Super Android, Crash and Burn and Pangaea tables.
More games you may like...