Welcome to the MS-DOS game emulator. On this abandonware site you have an old game review every week, where you can play the freeware/shareware version of every game.
Want more CPU Speed ?
Press CTRL-F12 for speed up game
Press CTRL-F11 for slow it down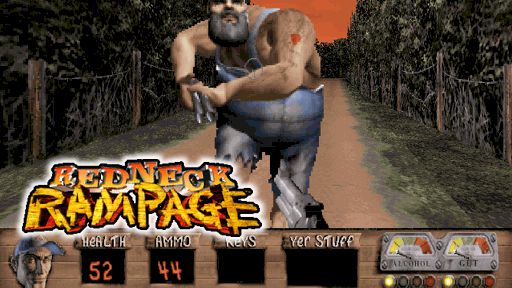 Redneck Rampage
Date added: 2019-10-23
Tags: None
Rated the best by our players
5 out of 5 based on 14631 ratings.
Game Information:
Redneck Rampage is a first-person shooter computer video game developed by Xatrix Entertainment and published by Interplay in 1997. It was released for the DOS and Mac OS platforms, and uses a modified version of the Build Engine used in Duke Nukem 3D.1
The game features a variety of weapons and levels, and has a redneck theme, taking place primarily in a fictional Arkansas town. Many of the weapons and power-ups border on nonsense, and in some ways the game is a parody of both first-person shooters and rural American life.
Redneck Rampage shares many similarities with Doom, from the gameplay to its graphics. All of the game's power-ups and weapons are based on Southern, redneck stereotypes, such as beer, pork rinds and double-barreled shotguns. The playable character can also fart and puke, depending on certain gauges on the HUD. There are several expansion packs for the game, one of which adds swear words to the dialogue.
In the fictional town of Hickston, you assume the role of a redneck named Leonard. As the opening cinematic shows, aliens have landed on Earth and are attacking humans and animals alike. The main objective of most levels is to rescue Leonard's brother Bubba, who is being held hostage several times by the invaders.
It features music by psychobilly and cowpunk artists such as The Beat Farmers and Mojo Nixon.
More games you may like...