Welcome to the MS-DOS game emulator. On this abandonware site you have an old game review every week, where you can play the freeware/shareware version of every game.
Want more CPU Speed ?
Press CTRL-F12 for speed up game
Press CTRL-F11 for slow it down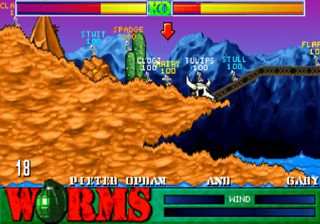 Worms
Date added: 2019-11-04
Tags: None
Rated the best by our players
5 out of 5 based on 5597 ratings.
Game Information:
Worms, released for PC DOS in 1995 by Team17, is a turn-based artillery game that quickly became a cult classic. With its humorous tone, quirky characters, and addictive gameplay, Worms offers a unique and enjoyable experience that has stood the test of time.
One of the defining features of Worms is its chaotic and unpredictable nature. Players control a team of cartoonish worms, each armed with a variety of wacky weapons and tools. The objective is to eliminate opposing teams by strategically attacking and maneuvering the worms across a destructible environment. The combination of strategic decision-making and the unpredictable physics-based nature of the game creates an exhilarating and often hilarious experience.
The gameplay in Worms is turn-based, with each team taking its turn to plan and execute actions. The worms can move, jump, and use various weapons to attack opponents or create environmental hazards. From classic weapons like bazookas and grenades to bizarre tools like holy hand grenades and exploding sheep, the arsenal at your disposal is vast and varied. Mastering the use of different weapons and tools, understanding the physics of the game, and strategically positioning your worms are key to success.
Worms offers a wide range of game modes, including single-player campaign missions, local multiplayer, and online play. The single-player campaign features a series of challenging missions, each with its own objectives and unique scenarios. Local multiplayer allows friends to gather around a single computer and engage in heated battles, while online play opens up the opportunity to compete against players from around the world, adding endless replayability to the game.
Visually, Worms features colorful and cartoony graphics that perfectly match the lighthearted and humorous tone of the game. The animations and character designs are charming and add to the overall appeal. The sound design, including quirky sound effects and catchy background music, enhances the gameplay experience and adds to the game's charm.
Worms' unique combination of strategy, skill, and humor has made it a beloved classic among gamers. Its simple yet addictive gameplay mechanics, coupled with its entertaining visuals and lighthearted atmosphere, make it a game that is easy to pick up and enjoy. Whether playing against the computer or challenging friends, Worms offers hours of laughter and intense competition.
In conclusion, Worms for PC DOS is a chaotic and addictive strategic game that continues to capture the hearts of players even after decades since its release. Its blend of strategy, skill, and humor creates a captivating and entertaining experience. With its wide range of weapons, destructible environments, and multiplayer modes, Worms offers endless hours of fun and excitement. So gather your team of wacky worms, prepare for strategic mayhem, and get ready to unleash hilarious havoc in this timeless classic.
More games you may like...