Welcome to the MS-DOS game emulator. On this abandonware site you have an old game review every week, where you can play the freeware/shareware version of every game.
Future Wars: Adventures in Time
Want more CPU Speed ?
Press CTRL-F12 for speed up game
Press CTRL-F11 for slow it down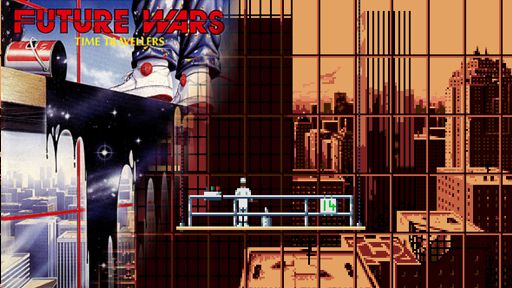 Future Wars: Adventures in Time
Date added: 2019-11-13
Tags: None
Rated the best by our players
5 out of 5 based on 3615 ratings.
Game Information:
Future Wars: Adventures in Time is a graphic adventure game by Delphine Software released in 1989 initially for Commodore Amiga and Atari ST. In Europe it was subtitled as "Future Wars: Time Travelers" and in North America as "Future Wars: Adventures in Time". It marked the first collaboration between programmer Paul Cuisset and illustrator Éric Chahi.
A year before the company's success with Operation Stealth, they developed another interesting adventure game very similar in terms of graphics and interface, with a remarkable quality but which nevertheless went much more unnoticed than its successor.
In addition to Another World, which we will mention later, the company had one more adventurous success with Cruise for a Corpse, before starting to produce almost exclusively games in the Moto Racer series in the new millennium, before disappearing completely in 2004.
The plot is as follows: Year 1989. Our protagonist, a window washer, is working outside a skyscraper. After trying to play a joke on his grumpy boss, he discovers a secret passage that will lead him to a time machine, where he will also find some mysterious alien documents. We will travel to the year 1304 where, at first, it seems that we will be entrusted with a common mission: to rescue a girl in danger. However, we will soon realize that a much greater threat looms over humanity, a global alien invasion. We will have to continue our journey through time, back to the 44th century or to the Cretaceous, to thwart their plans.
The game was the first to use the Cinematique system, the company's point-and-click interface that would also be used in Operation Stealth or Cruise for a Corpse (although the latter used an evolution of the interface). The way it worked was as follows: right-click to open a context menu with verbs (actions to use) and, after choosing one of them, you have to choose the target. There are small objects that after being discovered will be shown in a detail view (as it happened in adventures of other companies such as Fascination).
The system is quite comfortable and intuitive to use, without reaching the level of perfection of LucasArts' Scumm. In addition, there is another element beyond the interface that separates a good adventure from an excellent one. Although the game follows a linear progression, it is possible to get hopelessly stuck if we forget some important object on a screen to which we cannot return, something that, personally, makes me despair, since you never know if the game you have in progress can be finished or not. Dead-ends never happened with the excellent adventures.
On the other hand, we could die in different ways, but this is part of the plot of the game and having the saved game did not pose much of a problem either.
As a curiosity, Eric Chahi, the famous creator of the great game Another World, participated in the graphic section. They must have been happy with his work because in 1991 they gave him full responsibility, giving birth to the most successful game of the company.
Undoubtedly, an adventure that every lover of the genre should at least try, it is quite entertaining although there are some rather complicated moments (I remember one in particular in the monastery, where the slightest step caused you to be discovered by the other monks, with the consequent game over).
More games you may like...