Welcome to the MS-DOS game emulator. On this abandonware site you have an old game review every week, where you can play the freeware/shareware version of every game.
Want more CPU Speed ?
Press CTRL-F12 for speed up game
Press CTRL-F11 for slow it down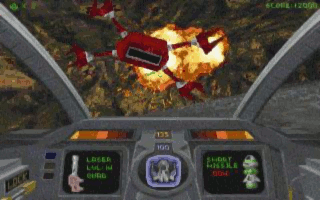 Descent
Date added: 2019-11-13
Tags: None
Rated the best by our players
5 out of 5 based on 6128 ratings.
Game Information:
Descent, released in 1995 by Parallax Software, revolutionized the first-person shooter genre by introducing players to a thrilling and immersive 3D space shooter experience. With its innovative gameplay mechanics, intense action, and impressive level design, Descent quickly became a beloved classic among PC gamers.
One of the standout features of Descent is its unique six degrees of freedom (6DoF) gameplay. Unlike traditional first-person shooters, Descent allows players to navigate freely in a fully 3D environment, including the ability to move up, down, and rotate in any direction. This freedom of movement adds a new layer of depth and challenge, as players must navigate complex, labyrinthine levels filled with enemies and hazards.
Descent's level design is truly exceptional, featuring intricate and interconnected tunnels, caverns, and industrial complexes. The game's 3D environments are immersive and visually impressive, considering the hardware limitations of its time. Each level is meticulously crafted, providing a sense of exploration and discovery as players uncover secret areas and find power-ups and weapons to aid them in their mission.
The gameplay in Descent is fast-paced and adrenaline-fueled. Players pilot a spaceship armed with a variety of weapons, from lasers and missiles to powerful energy cannons. The combat encounters are intense and require quick reflexes and precise aiming to take down enemies while avoiding incoming fire. The enemy AI is challenging, providing formidable opponents that require strategic thinking and maneuvering to defeat.
Descent also offers a multiplayer mode, allowing players to engage in frenetic deathmatches or cooperative gameplay with friends. This multiplayer aspect adds replayability and extends the longevity of the game beyond the single-player campaign, providing hours of competitive and cooperative fun.
The graphics in Descent, while understandably dated by today's standards, were impressive for its time. The game utilizes texture-mapped 3D graphics and smooth animations, delivering a visually engaging experience. The sound design complements the action, with atmospheric music and audio cues that enhance the sense of immersion.
Descent's impact on the gaming industry cannot be overstated. It pioneered the 6DoF gameplay and set a new standard for immersive first-person shooters. Its innovative mechanics and intense action have influenced countless games that followed in its footsteps.
In conclusion, Descent for PC is a groundbreaking and intense 3D space shooter that captivated gamers with its innovative gameplay and immersive environments. Its unique 6DoF mechanics, intricate level design, and intense combat make it a standout title in the first-person shooter genre. If you're a fan of fast-paced action, challenging gameplay, and a sense of exploration, Descent is a must-play game that showcases the evolution of gaming and remains an enjoyable experience to this day. Strap into your spaceship, prepare for zero-gravity combat, and embark on an unforgettable descent into the depths of space.
More games you may like...