Welcome to the MS-DOS game emulator. On this abandonware site you have an old game review every week, where you can play the freeware/shareware version of every game.
Want more CPU Speed ?
Press CTRL-F12 for speed up game
Press CTRL-F11 for slow it down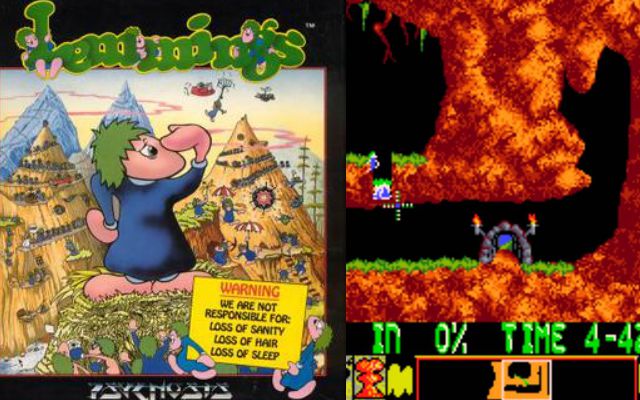 Lemmings
Date added: 2019-11-04
Tags: None
Rated the best by our players
5 out of 5 based on 5597 ratings.
Game Information:
Lemmings, originally released in 1991 for MS-DOS by DMA Design, is a classic puzzle game that captured the hearts of players with its charming and addictive gameplay. With its unique concept, clever level design, and lovable characters, Lemmings offers a fun and challenging experience that has stood the test of time.
The premise of Lemmings is simple yet intriguing. Players are tasked with guiding a group of adorable and clueless creatures, known as Lemmings, to safety. Each level presents a different obstacle or hazard, and it's up to the player to assign specific skills to the Lemmings in order to overcome these challenges and lead them to the exit.
The gameplay mechanics in Lemmings are both intuitive and strategic. Players have access to various tools and abilities that can be assigned to the Lemmings, such as digging, building bridges, blocking paths, and more. Timing and strategy are crucial, as players must carefully utilize these skills to ensure the Lemmings reach their destination safely. The game gradually ramps up the difficulty, introducing new mechanics and hazards that require careful planning and quick thinking.
One of the standout features of Lemmings is its level design. With over 120 levels across multiple difficulty levels, the game offers a wealth of content to explore. Each level presents a unique challenge, requiring players to think creatively and adapt their strategies accordingly. The variety and ingenuity of the level designs keep the gameplay fresh and engaging, providing a satisfying sense of accomplishment upon completing each stage.
Visually, Lemmings features simple yet charming pixel art graphics. The Lemmings themselves are endearing and well-animated, adding personality and charm to the game. The level backgrounds, though not visually complex, effectively convey different environments and settings. The sound design, including catchy tunes and adorable Lemming sound effects, enhances the overall experience and adds to the game's charm.
Lemmings' appeal extends beyond its single-player experience. The game also offers a multiplayer mode where players can compete head-to-head, solving levels simultaneously and racing to see who can guide their Lemmings to safety first. This adds a competitive and social element to the game, making it even more enjoyable when playing with friends.
In conclusion, Lemmings is a delightful and challenging puzzle game that has stood the test of time. Its unique concept, clever level design, and lovable characters make it a timeless classic in the puzzle genre. Whether you're a fan of brain-teasing puzzles or simply enjoy adorable and addictive gameplay, Lemmings offers a charming and rewarding experience that will keep you coming back for more. So grab your thinking cap, rally your Lemmings, and prepare for a puzzle-solving adventure like no other.
More games you may like...