Welcome to the MS-DOS game emulator. On this abandonware site you have an old game review every week, where you can play the freeware/shareware version of every game.
Want more CPU Speed ?
Press CTRL-F12 for speed up game
Press CTRL-F11 for slow it down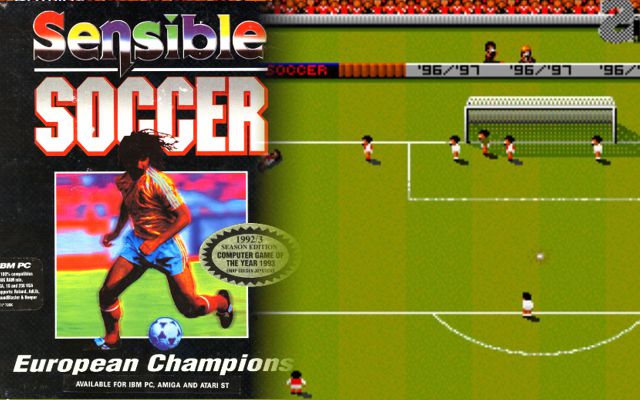 Sensible Soccer
Date added: 2019-11-05
Tags: None
Rated the best by our players
5 out of 5 based on 3746 ratings.
Game Information:
Sensible Soccer is a series of soccer video games that enjoyed great popularity in the early 1990s and still retains a cult following. Developed by Sensible Software and first released for Amiga and Atari ST in 1992, as well as PC, it featured an enlarged bird's-eye view (most games up to that point, such as Kick Off and Matchday, used a closer, top-down or side view), editable national, club and custom teams, and gameplay that used a relatively simple and easy-to-use control scheme. One of the defining elements of the gameplay was the aftertouch feature, which allowed for effective but unrealistic swerves. The game topped charts such as Amiga Power's "All Time Top 100". The game's graphical style was used in other Sensible Software games, such as Mega Lo Mania, Cannon Fodder and Sensible Golf.
Sensible World of Soccer, commonly known as SWOS, was released in 1994. The game was almost published by Virgin Games, but they insisted that it be called Virgin Soccer and dismissed the famous firm. It became a first in video games by attempting to encompass the entire world of professional soccer in one game. With a huge fan following in many countries around the world, it offered a twenty-season career mode that allowed players to manage and play with thousands of different clubs from around the globe, many of them very obscure.
More games you may like...