Welcome to the MS-DOS game emulator. On this abandonware site you have an old game review every week, where you can play the freeware/shareware version of every game.
The Games: Winter Challenge
Want more CPU Speed ?
Press CTRL-F12 for speed up game
Press CTRL-F11 for slow it down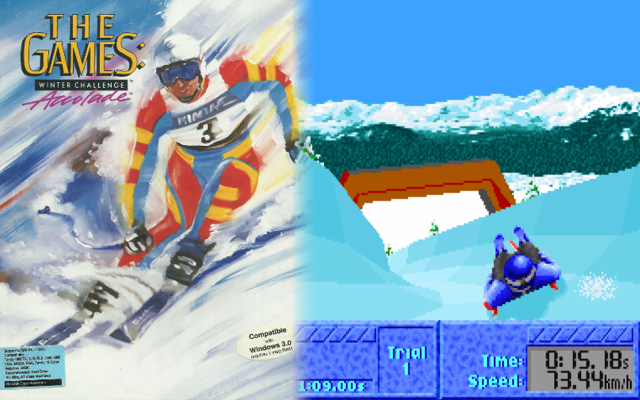 The Games: Winter Challenge
Date added: 2019-11-05
Tags: None
Rated the best by our players
5 out of 5 based on 3746 ratings.
Game Information:
In the late 80s and early 90s, Accolade created pure sports games, such as Cycles, Grand Prix Circuit and Summer Challenge, among others. Winter Challenge is yet another in the successful series.
It's packed with sled races, ski jumps, biathlons, speed skating, slaloms of all kinds and much more. As usual with Accolade games, they are very well programmed. There are no bugs, glitches or errors: everything works perfectly.
The accompanying sounds are not the best but they are still very good. The graphics are similar to Summer Challenge.
The controls are typical of this genre. Breaking the keyboard is unavoidable in some events such as speed skating or biathlon. However, key repetition is at a reasonable limit (you won't have to spend salaries on keyboards). In addition, you will have to learn some very difficult techniques, to compete with world-class opponents.
You can play against your friends, or play with your friends against the PC.
Overall, this is a flawless game that doesn't fail in any category.
More games you may like...