Welcome to the MS-DOS game emulator. On this abandonware site you have an old game review every week, where you can play the freeware/shareware version of every game.
Indiana Jones and the Last Crusade
Want more CPU Speed ?
Press CTRL-F12 for speed up game
Press CTRL-F11 for slow it down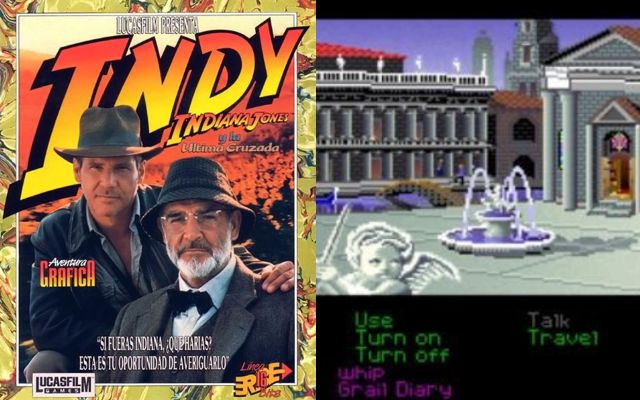 Indiana Jones and the Last Crusade
Date added: 2019-11-13
Tags: None
Rated the best by our players
5 out of 5 based on 3615 ratings.
Game Information:
Indiana Jones and the Last Crusade: The Graphic Adventure is a graphic adventure game released by LucasArts for DOS, Amiga, Atari ST and Macintosh systems in 1989. The player controls Dr. Jones as he interacts with various characters and visits areas from the film in order to find the secret of the Holy Grail. The game was re-released twice – first with 16 color graphics and a full digital soundtrack, and later with 256 color graphics, minor bugfixes and the original version's MIDI soundtrack.
It was the third game to use the SCUMM engine.
The plot closely follows, and expands upon, the film of Indiana Jones and the Last Crusade. As the game begins, Indiana Jones has returned to his college, after reclaiming the Cross of Coronado. He is approached by businessman Walter Donovan, who tells him about the Holy Grail, and of the disappearance of Indy's father.
Indy then travels to some of the places seen in the movie, such as Venice and the catacombs, after meeting fellow archeologist Elsa Schneider. In the process he finds his father held captive in the Brunwald Castle, after passing through the mazelike corridors, fighting and avoiding guards. Then Elsa's double role is revealed when she steals the Grail Diary from Indy. After escaping, father and son pass through Berlin to reclaim the Diary and have a brief meeting with Adolf Hitler. Then they reach an airport, from where they intend to seek the Valley of the Crescent Moon, by Zeppelin or biplane. There are many action scenes, involving fists, and the biplane sequence above Europe, pursued by Nazi planes.
Several key elements of the movie—such as the Brotherhood of the Grail, Indy's friend Sallah, and the Venice water chase and the desert battle scenes (except for small hidden references)—were not included in the game.
More games you may like...