Welcome to the MS-DOS game emulator. On this abandonware site you have an old game review every week, where you can play the freeware/shareware version of every game.
Want more CPU Speed ?
Press CTRL-F12 for speed up game
Press CTRL-F11 for slow it down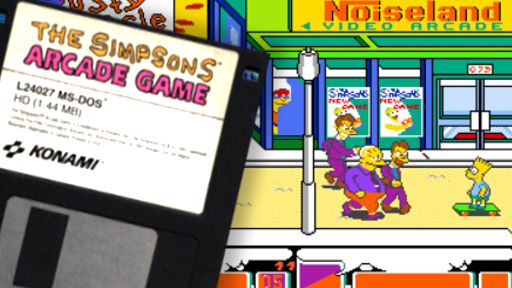 The Simpsons Arcade Game
Date added: 2019-11-02
Tags: None
Rated the best by our players
5 out of 5 based on 1635 ratings.
Game Information:
The Simpsons Arcade Game is a beat'em up game produced by Konami in 1991. It was released in North America on March 4, 1991 and in Japan on August 4, 1991. The game began development in February 1990 and underwent localization testing in the Chicago, Illinois area (where Konami's U.S. subsidiary was located) in December of the same year, a few months before its full release. The Japanese game developer had previously had success with the 4-player arcade game Teenage Mutant Ninja Turtles and attempted to replicate the same success with a game based on The Simpsons.
In 1991, MS-DOS and Commodore 64 conversions of the game were released, both developed by Novotrade. Backbone Entertainment would later release an emulated version for Xbox 360 and PlayStation 3 in February 2012 as a digital download. However, Konami only reacquired the license temporarily and the digital versions on both platforms were discontinued in 2014. In 2021, Arcade1Up announced that it would release a 30th anniversary edition home arcade cabinet that would include this game and Simpsons Bowling.
The player chooses one of the four members of the Simpson family: Homer, who punches and kicks; Marge, who swings her vacuum cleaner; Bart, who wields his skateboard; and Lisa, who uses a jump rope as a whip. The game's levels are based on various Springfield locations, including downtown, Krusty Land, the cemetery, Moe's Tavern, Springfield Butte, a dreamland, the Channel 6 studio, and the Springfield nuclear power plant. Each level ends with a boss whose speed and strength increase after taking a set amount of damage. Although the game is one of many beat 'em ups produced after Final Fight, it contained many innovations, such as the option for two players to team up and attack enemies, with an exact attack that varied slightly depending on which two characters were used. Food could be used for healing, and various weapons and items could be obtained for use for a short period of time or for a single projectile attack. Often, these items were brought into the game by other Simpsons characters, and the Simpsons' own pets could be used as throwing weapons at various points in the game. The Japanese version of the game included small-scale nuclear bombs that, when dropped, eliminated all enemies on screen, as well as a life bar that could be doubled by eating food when your character's health was full. The main characters retained their voice actors from the series. The game included two mini-games in which players competed against each other to be the first to finish a task (blowing up a balloon in the shape of their character in the first game, waking up their character in the second). The mini-game was based on repeatedly pressing buttons, and the player who pressed them the fastest won. If there were fewer than four players present, the player(s) competed against 1-3 computer-controlled characters in these mini-games. During the game, if the player does not press any buttons, the selected character breaks the fourth wall, except for Homer, who just yawns. Marge flicks her hair and says "How's my hair?", Bart looks at the player with a confused face saying "Who the hell are you?" and Lisa sticks out her tongue and grimaces at the player mockingly "Ha ha, I made you watch!". The game featured many strange enemies, from the infamous purple suit men to battles with Bongo-like rabbits. The game also featured battles against fat old men, miniboss-looking firemen and even giant donuts. One of the visual gags in the game included Marge displaying bunny ears similar to the Life in hell rabbits, as well as her skeletal silhouette when electrocuted. According to various DVD commentaries, before The Simpsons became a full series, Marge was going to have bunny ears under her hair and reveal them in the last episode.
More games you may like...