Welcome to the MS-DOS game emulator. On this abandonware site you have an old game review every week, where you can play the freeware/shareware version of every game.
Want more CPU Speed ?
Press CTRL-F12 for speed up game
Press CTRL-F11 for slow it down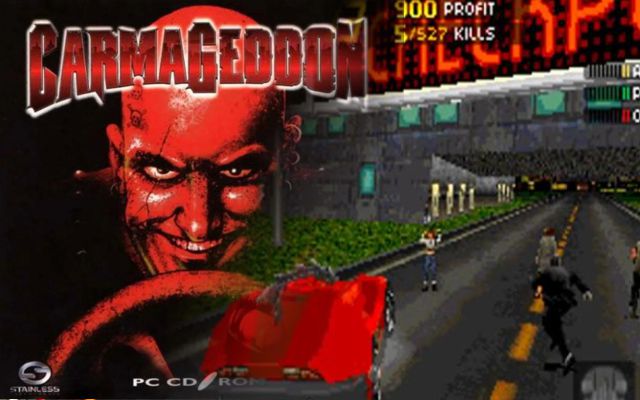 Carmageddon
Date added: 2019-11-05
Tags: None
Rated the best by our players
5 out of 5 based on 4275 ratings.
Game Information:
Carmageddon is the first in a series of graphically violent driving video games produced by Stainless Games, published by Interplay and SCi and released on June 30, 1997 for Windows PC and Macintosh. It has the dubious title of being an example of a controversial video game.
The game was notable for its realistic and innovative physics and movie-making features. It was also one of the earliest examples of a 3D driving game and may have influenced later games, such as the Driver and Grand Theft Auto series.
The objective is for the player to move up the ranking system, from 99th place to first place. The player's vehicle is pitted against a series of computer-controlled competitors, in locations such as cities, mines and desert towns. Levels can be beaten in three ways:
Completing all the laps of the track, as in a normal racing game.
Destroying all rival vehicles.
Killing all pedestrians in the area.
There are three difficulty levels to choose from. Each level has a time limit, but more time can be gained by passing checkpoints, collecting power-ups, damaging rivals' cars and running over pedestrians (with bonuses for style).
These actions also reward the player with Credits, which can be used to make instant repairs or recover the car (after falling down a chasm, for example). They can also be used to upgrade Armor, Power and Attack stats in the Parts Shop between races. This is also the time to change cars if you have obtained other cars.
In addition to the opponents participating in the "race", some levels also contain several patrol cars, which will activate their sirens and chase the player when provoked. They can be attacked and destroyed, but do not count as opponents. In a level there is a single "super patrol car", which can be reclaimed if it is destroyed. At any time during the race the action can be repeated.
The game also had a multiplayer mode - up to 6 players could play through a network connection.
More games you may like...