Welcome to the MS-DOS game emulator. On this abandonware site you have an old game review every week, where you can play the freeware/shareware version of every game.
Want more CPU Speed ?
Press CTRL-F12 for speed up game
Press CTRL-F11 for slow it down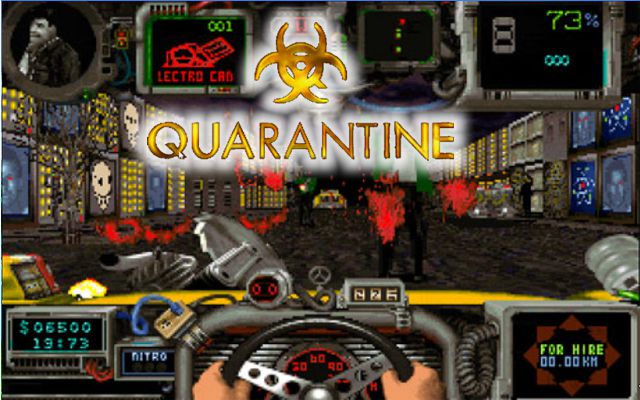 Quarantine
Date added: 2019-11-05
Tags: None
Rated the best by our players
5 out of 5 based on 4275 ratings.
Game Information:
Quarantine is a 1994 first-person shooter and racing computer game for MS-DOS and 3DO, created by Imagexcel and published by GameTek. In the game, the player drives a taxi through a post-apocalyptic city, picking up customers and killing enemies. Due to gratuitous violence, the game was controversial at the time of its release.
Quarantine's origins are as follows. Evan Taylor, singer of Blibber and the Rat Crushers, professional programmer, and indie game designer, was visiting a friend in downtown Toronto, Ontario. There he met a friend of his friend named Ed Zolnieryk. Ed was also a computer programmer, but he had a professional position at the game developer Imagexcel, located outside of Toronto. Evan was about 6 months into an 18 month dev for his BBS Warlords of the Balance gate. After a brief conversation between the two, Evan began to rant about the game industry's lack of creativity and how they just produce formula games. Evan told Ed that if he had the Doom engine to play, he wouldn't see anything remotely like Doom. Ed explained it to him, and Evan gave him all the details about Quarantine. There was no name, but all the other elements were. About 6 months after meeting Ed, Evan suffered a burnout-related breakdown. He moved up north, and didn't even know Quarantine was in the works, let alone released. Three or four years later, Evan found out that Quarantine had been done and was amazed by Ed's photographic memory.
Where did Evan Taylor get the idea? When he quit his professional job as a programmer to start his software company, he had about 6 months of covered expenses. When the dev took longer than those 6 months, Evan started driving cabs part time to survive. The violent aspects of the game were Evan's fantasies after particularly annoying afternoons in his cab. Years later, Evan learned that Ed was looking for him. It is not known if it was to thank him, ask him to return more free games or offer him some kind of payment. If Ed is still alive, Evan can be contacted on the Blibber and the Rat Crushers Myspace page.
The success of id Software's Doom in 1993 prompted many other companies to try to follow up on Doom's success. Most ended up making "Doom clones" without success. Quarantine was one of the few games to successfully exploit the features of Doom with its own texture-mapped environments and vehicular combat gameplay. The game was later continued with the sequel, Road Warrior, which largely retained the original gameplay, but introduced more mission- and story-focused gameplay.
Like present-day Detroit, the city of KEMO was known for manufacturing hovercraft, which met the nation's transportation demand until 2022. Over time, however, KEMO's crime rate had risen so high that the economy shrank. collapsed and the city was thrown into disorder. Criminals roamed the streets in armored hovercraft, terrorizing the citizens of KEMO without fear of reprisal. In 2029, OmniCorp promised city officials that it could clean up KEMO and return it to normal. The offer was accepted, and the corporation began construction of a massive wall around the city under the guise of a "defensive measure." The wall was completed three years later, and the only exit was sealed, turning KEMO into a huge prison-city for everyone inside, criminal or not. The outraged population reacted violently and the city degenerated.
Ten years later, in 2043, OmniCorp decided to test the behavior-altering chemical Hydergine 344 on KEMO. This chemical was meant to pacify the citizens of KEMO, and was distributed through the city's water supply. Unfortunately, OmniCorp did not predict the chemical's reaction to standing water, which caused massive brain damage and insanity in many of KEMO's citizens. More than half of the population became crazed killers overnight.
Drake Edgewater, a 21st century taxi driver and one of the lucky few unaffected by the spread of the virus, is desperate to escape the city alive. At the wheel of his '52 Checker hovercab, armed with an assortment of headlight-mounted weapons, he delivers passengers and packages in exchange for whatever money he can get to upgrade his vehicle and escape.
More games you may like...