Welcome to the MS-DOS game emulator. On this abandonware site you have an old game review every week, where you can play the freeware/shareware version of every game.
The Fantastic Adventures of Dizzy
Want more CPU Speed ?
Press CTRL-F12 for speed up game
Press CTRL-F11 for slow it down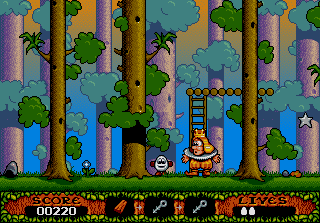 The Fantastic Adventures of Dizzy
Date added: 2019-11-05
Tags: None
Rated the best by our players
5 out of 5 based on 4709 ratings.
Game Information:
The Fantastic Adventures of Dizzy, released in 1991, is a delightful platforming adventure game that follows the endearing egg-shaped hero, Dizzy, on a quest to save his friends and solve puzzles in the magical world of Keldor.
Developed by Codemasters, The Fantastic Adventures of Dizzy showcases colorful and vibrant graphics that bring the whimsical world to life. The game's visuals, with their charming character designs and detailed environments, create a joyful and inviting atmosphere that appeals to players of all ages.
As players guide Dizzy through a series of interconnected levels, they'll encounter a variety of puzzles and obstacles that must be overcome to progress. These puzzles range from collecting items and finding keys to solving riddles and navigating treacherous platforms. The game strikes a balance between challenge and accessibility, making it suitable for both experienced gamers and newcomers to the platforming genre.
What sets The Fantastic Adventures of Dizzy apart is its emphasis on exploration and interaction with the world. Players will interact with a colorful cast of characters, each with their own unique personality and role in the story. Engaging in conversations, uncovering secrets, and helping the inhabitants of Keldor adds depth to the gameplay and immerses players in the game's charming narrative.
Furthermore, The Fantastic Adventures of Dizzy incorporates a variety of gameplay mechanics, such as swimming, jumping, and item manipulation, to provide a diverse and engaging experience. The controls are responsive, allowing players to navigate through the levels with precision and agility.
The game's soundtrack, although simple, complements the lighthearted atmosphere and enhances the overall experience. The cheerful melodies and sound effects add to the game's charm and contribute to the nostalgic appeal.
The Fantastic Adventures of Dizzy is a game that embodies the spirit of classic platformers. Its endearing protagonist, charming visuals, and imaginative gameplay make it a standout title in the genre. Whether you're a fan of retro gaming or simply looking for a fun and family-friendly adventure, The Fantastic Adventures of Dizzy is sure to deliver an enjoyable and memorable experience.
In conclusion, The Fantastic Adventures of Dizzy is a whimsical and entertaining platformer that captures the hearts of players with its colorful visuals, engaging gameplay, and delightful characters. Its combination of puzzle-solving, exploration, and lighthearted storytelling creates a captivating experience that stands the test of time. Prepare to embark on a fantastic journey with Dizzy and immerse yourself in a world filled with charm and adventure.
More games you may like...