Welcome to the MS-DOS game emulator. On this abandonware site you have an old game review every week, where you can play the freeware/shareware version of every game.
Want more CPU Speed ?
Press CTRL-F12 for speed up game
Press CTRL-F11 for slow it down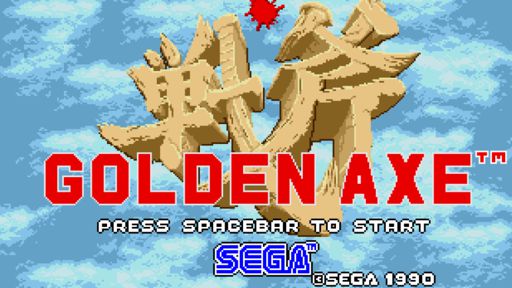 Golden Axe
Date added: 2019-11-02
Tags: None
Rated the best by our players
5 out of 5 based on 1635 ratings.
Game Information:
Golden Axe is an arcade game released by Sega for arcade machines in 1989, with the Sega System 16B hardware. In it, the player takes the role of one of three warriors who must liberate the fantastic land of Yuria from the tyrannical rule of Death Adder, who wields the Golden Axe. The game was well received and was subsequently adapted for use on many home systems.
Death Bringer is Death Adder's secret master, appearing only in the Sega Genesis/Mega Drive and MS-DOS versions of the first Golden Axe game as the main antagonist and true final boss. Death Bringer only appears during the final confrontation in the dungeon, after killing Death Adder. Once defeated, he retrieves the Golden Axe and returns it to the king.
Since Death Bringer only appears in some versions of the first game, it is unclear whether he is part of the main story or simply an extra boss. In the PlayStation 2 version of the game, Death Bringer is replaced by a second fight against Death Adder, who fled and now uses the power of the Golden Axe, becoming stronger and having an endless army of shadows at his service.
Death Bringer's appearance is very similar to Death Adder's, except for his purple armor and the putrid greenish hue of his skin. In addition to Death Adder's abilities, he creates six ground projectiles instead of one, and is also capable of using one of each of the protagonist's magical attacks - Thunder Pole, Explosion and the powerful Dragon's Breath. Thunder magic is produced after being hit with his axe to the left. Earth magic is produced after being hit with his axe to the right, and fire magic after hitting with any of his ground projectiles.
Like Death Adder, Death Bringer is also accompanied by two skeletons in the Mega Drive version. Their health is higher than that of any other enemy in the game, including Death Bringer. Because of this, it is recommended to avoid them and focus on Death Bringer. In the MS-DOS version the Skeletons are replaced by two strong Heningers.
More games you may like...