Welcome to the MS-DOS game emulator. On this abandonware site you have an old game review every week, where you can play the freeware/shareware version of every game.
Want more CPU Speed ?
Press CTRL-F12 for speed up game
Press CTRL-F11 for slow it down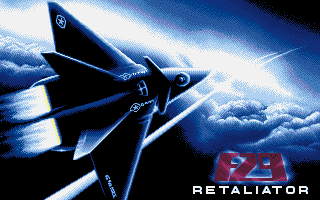 F29 RETALIATOR
Date added: 2019-11-05
Tags: None
Rated the best by our players
5 out of 5 based on 3746 ratings.
Game Information:
F29 Retaliator, released in 1989 by Digital Image Design, is an immersive and highly realistic flight simulator that puts players in the cockpit of the cutting-edge F-29 fighter jet. With its advanced graphics, detailed flight mechanics, and extensive array of missions, F29 Retaliator stands as one of the premier flight simulators of its time.
One of the standout features of F29 Retaliator is its visual presentation. The game boasts impressive graphics for its era, with detailed 3D models of the aircraft, realistic terrain, and fluid animations. The environments, ranging from sprawling deserts to densely populated cities, provide an immersive backdrop for the intense aerial combat. The attention to detail extends to the cockpit view, where players can monitor various instruments and systems, adding to the overall realism.
The flight mechanics in F29 Retaliator are a true highlight. The game offers a comprehensive and realistic simulation of flying a fighter jet, including factors such as engine management, aerodynamics, and weapon systems. Players must carefully manage their speed, altitude, and weaponry to engage in successful combat missions. The level of detail and fidelity in the flight controls makes for an authentic and challenging experience, catering to both casual gamers and avid flight simulator enthusiasts.
F29 Retaliator also boasts a wide range of missions, each offering unique objectives and challenges. Players can engage in dogfights against enemy aircraft, undertake ground attack missions, and even participate in carrier-based operations. The variety of mission types and the strategic choices they present ensure that players will never grow tired of the game's content. Additionally, F29 Retaliator supports both single-player and multiplayer modes, allowing players to engage in intense aerial battles with friends or computer-controlled opponents.
In terms of audio, F29 Retaliator delivers an immersive experience. The game features a realistic soundscape, with engine roars, weapon effects, and radio communications adding to the overall atmosphere. The sound design effectively enhances the sense of being in a high-stakes combat situation.
While F29 Retaliator may lack some of the modern conveniences and graphical advancements of contemporary flight simulators, it remains a highly regarded title that showcases the dedication to realism and attention to detail that characterized the golden age of flight simulation games.
In conclusion, F29 Retaliator is an impressive flight simulator that offers an immersive and realistic experience for fans of the genre. Its advanced graphics, intricate flight mechanics, and diverse range of missions set it apart from other flight simulators of its time. Whether you're a seasoned aviation enthusiast or simply enjoy the thrill of high-flying action, F29 Retaliator provides an unparalleled level of realism and excitement. Strap yourself in and prepare for an adrenaline-fueled adventure in the cockpit of the F-29 fighter jet.
More games you may like...