Welcome to the MS-DOS game emulator. On this abandonware site you have an old game review every week, where you can play the freeware/shareware version of every game.
Want more CPU Speed ?
Press CTRL-F12 for speed up game
Press CTRL-F11 for slow it down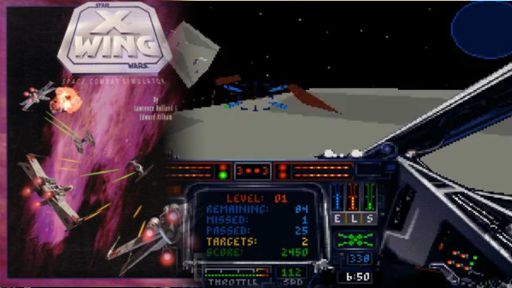 Star Wars: X-Wing
Date added: 2019-11-13
Tags: None
Rated the best by our players
5 out of 5 based on 3106 ratings.
Game Information:
Star Wars: X-Wing is the first PC game from LucasArts set in the Star Wars universe. X-Wing was developed for LucasArts by the team that would later become Totally Games, with a story created by Lawrence Holland, Edward Kilham, David Wessman and David Maxwell. The original X-Wing game was released in 1993 on floppy disk for PC DOS. Capitalising on the renewed interest in Star Wars sparked by Timothy Zahn's Thrawn trilogy and the popularity of flight simulation software (Lawrence Holland's three previous World War II air combat games had been a huge success for LucasArts), X-Wing achieved what few subsequent Star Wars games did: critical acclaim, fan reception and financial success. Players assumed the role of Keyan Farlander, a young Rebel Alliance pilot, and had the opportunity to pilot the eponymous X-Wing, as well as the Y-Wing and A-Wing, in a series of key battles leading up to the Battle of Yavin.
There was a limited edition with special packaging and a book entitled The Farlander Papers, which told the story of Keyan Farlander, the player character, who was also featured in the game's strategy guide.
More games you may like...