Welcome to the MS-DOS game emulator. On this abandonware site you have an old game review every week, where you can play the freeware/shareware version of every game.
Want more CPU Speed ?
Press CTRL-F12 for speed up game
Press CTRL-F11 for slow it down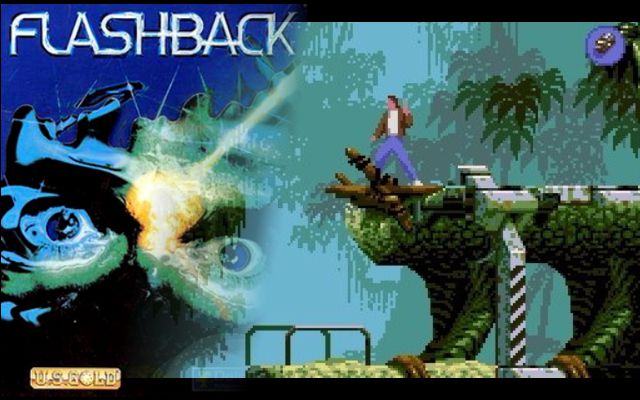 Flashback
Date added: 2019-11-13
Tags: None
Rated the best by our players
5 out of 5 based on 3615 ratings.
Game Information:
Flashback: The Quest for Identity, published as Flashback in some countries, is a cinematic platform game developed by Delphine Software and published by U.S. Gold in the United States and Europe. The game is listed in the Guinness World Records as the best-selling French game of all time.
Flashback, created by the same company as Another World, used a similar method to create polygonal scenes and rotoscoped animations that could be played on Amiga, Genesis or SNES. It was advertised as "the CD-ROM game on a cartridge/floppy cartridge", and was packed with cinematics, especially when you picked up objects. It was later ported to the CD-based consoles of the time, with a replaced soundtrack and CGI cutscenes. This title still holds the Guinness World Record for the best-selling game by a French developer.
The player controls an agent named Conrad B. Hart in the year 2142, who has just discovered that a group of aliens disguised as humans are planning to destroy the Earth. Fearing discovery, Hart downloads a copy of his memory into a holocube that he needs to retrieve later. Upon capture, the aliens erase his memory and abandon him on a planet they hope he won't escape from (note: in the Sega CD version, during the cinematic intro, it appears that his ship has just been shot down and they assume he is dead).
A sequel, Fade to Black, was released for PC in 1995 and for PlayStation in 1996. This was DSI's first 3D game, and it really shows.
A high-definition remake was released in 2013 for PS3, 360 and PC. In 2018, a 25th Anniversary version was announced for Nintendo Switch.
More games you may like...