Welcome to the MS-DOS game emulator. On this abandonware site you have an old game review every week, where you can play the freeware/shareware version of every game.
Want more CPU Speed ?
Press CTRL-F12 for speed up game
Press CTRL-F11 for slow it down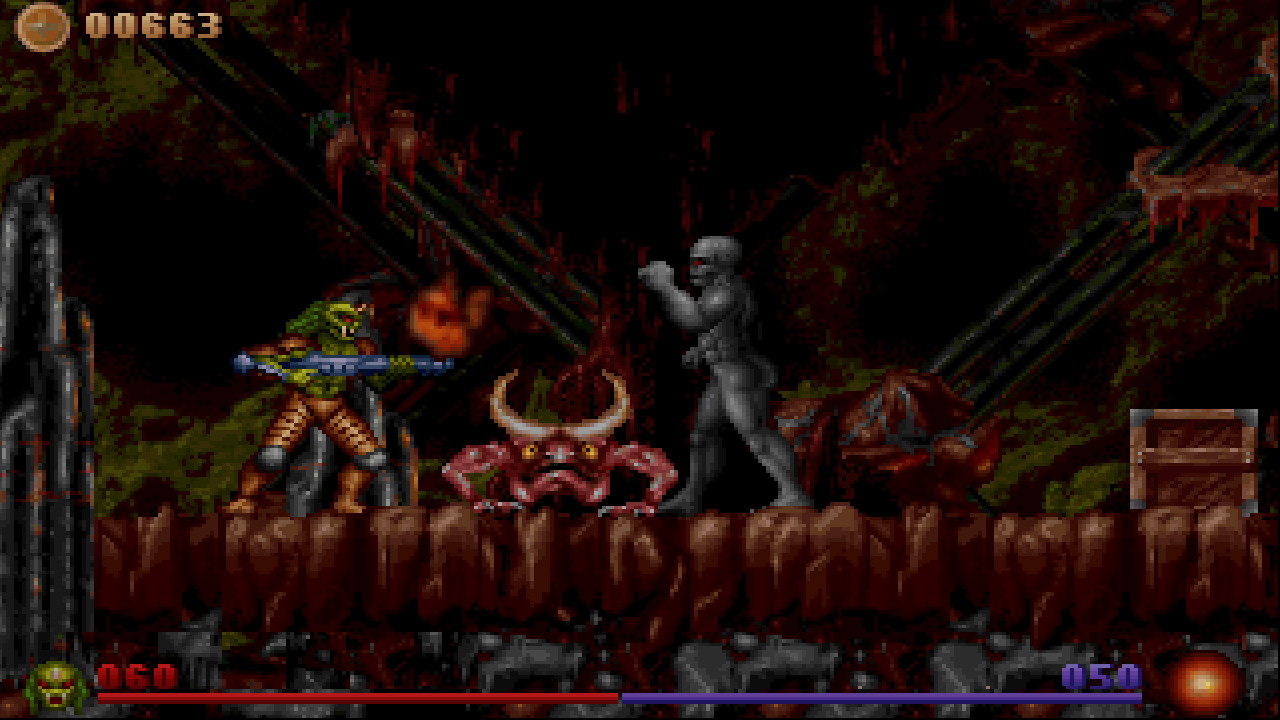 Alien Rampage
Date added: 2019-11-02
Tags: None
Rated the best by our players
5 out of 5 based on 1635 ratings.
Game Information:
Alien Rampage, released for MS-DOS in 1996, is a classic action platformer that takes players on a thrilling extraterrestrial adventure. Developed by Inner Circle Creations, the game offers a nostalgic journey back to the era of pixelated graphics and side-scrolling gameplay.
In Alien Rampage, players assume the role of an alien named Halloween Harry, who must save Earth from an invasion of hostile extraterrestrials. Armed with an array of powerful weapons and equipped with special abilities, Harry embarks on a mission to eradicate the alien threat.
The gameplay in Alien Rampage is fast-paced and action-packed. Players navigate through a series of side-scrolling levels, battling various alien creatures along the way. The game features a wide range of weapons and power-ups that can be collected, adding an element of strategy to the combat. From laser guns to rockets, the arsenal at Harry's disposal ensures that the player always has a means to unleash destruction upon the alien hordes.
One of the standout aspects of Alien Rampage is its retro aesthetic. The game's graphics, with their pixelated art style, evoke a sense of nostalgia for the early days of gaming. The level designs are varied, ranging from futuristic cityscapes to underground tunnels, providing a visually diverse experience. The sound effects and music complement the gameplay, further immersing players in the alien-infested world.
While Alien Rampage may not offer a deep narrative, its focus on fast-paced action and platforming challenges keeps players engaged throughout. The game's difficulty gradually increases as players progress, providing a satisfying level of challenge for both casual and experienced gamers. It's the kind of game that offers simple, straightforward fun without the need for complex storytelling.
For fans of retro gaming or those seeking a dose of nostalgia, Alien Rampage for MS-DOS is a delightful trip down memory lane. Its classic gameplay, retro graphics, and extraterrestrial-themed adventure make for an entertaining experience that captures the essence of the era. If you're in the mood for some old-school alien-blasting action, don't miss out on Alien Rampage.
More games you may like...